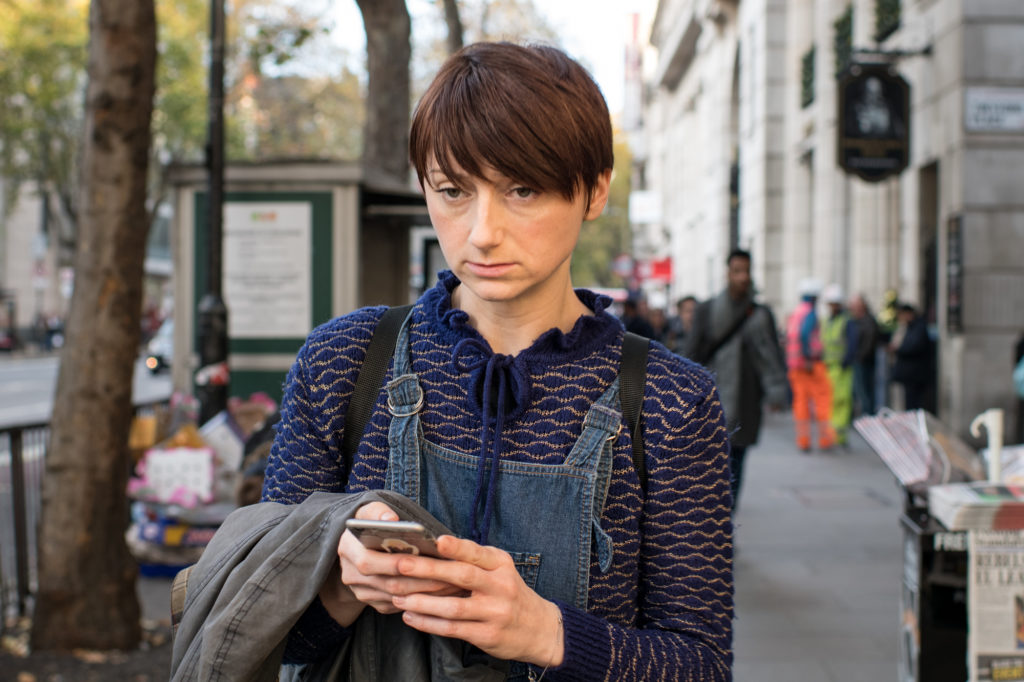 Smartphones zijn de heroïne van onze tijd. We zijn allemaal hooked – een enkeling daar gelaten. Niet gek ook, want ze brengen veel goeds, waardevols en vermakelijk dansende panda's. Het gebruik is nagenoeg gratis. En… de apps zijn bewust ontworpen om verslavend te zijn. De verslaving leidt tot ongelukken in het verkeer, roekeloos vergaderen, overgewicht, app-nekken, eenzaamheid, slapeloze nachten, depressie en zelfs zelfmoord. En meer.
De afgelopen anderhalf jaar fotografeerde ik mensen die verzonken zijn in hun telefoon – je zou ze ook telefoonzombies kunnen noemen. Ik fotografeer ze op het moment dat ze ontwaken en ze van een online wereld terugkomen in onze fysieke wereld. Misschien heb je mijn foto's bijvoorbeeld in Trouw of op EenVandaag of de Huffington Post voorbij zien komen. Ik begon mijn serie in Groningen en ging verder in Arnhem, Utrecht, Amsterdam en Londen.
Na anderhalf jaar fotograferen wil ik in Groningen een volgende slag maken en op de één of andere manier meer mensen laten meedoen. Voormalig Kunstencentrum Vrijdag vindt dat tof en daarom organiseren we samen een straatfotografieworkshop en een avondlezing. Ik deel mijn verhaal, mijn zorgen en mijn trucs en nodig iedereen uit om – op zijn eigen manier – aan te sluiten.
Straatfotografieworkshop? We gaan samen de straat op en aan de slag. Met welke intentie ga je aan de slag? Hoe beweeg je? Welke kleding draag je? Hoe vind je hotzones en hoe zorg ervoor dat je daar echt op je plek bent? Ik hoop je te inspireren om ook je pad op straat te vinden, samen te leren en nieuwe sub-series te laten ontstaan. Dus als je interesse hebt in straatfotografie, close contact (niet-gestolen), portret… voel je welkom. Een serieuze camera is fijn, maar niets hoeft. Ook een smartphone will do, zolang je die maar gebruikt als een smartphone-camera 🙂 Hier aanmelden.
Lezing? In anderhalf uur neem ik je mee in mijn queeste naar gezond smartphone gebruik. Ik deel mijn zorgen, mijn verhalen en lichtpuntjes. Hier aanmelden.
Filmpjes
Vragen? Vragen!